New Opening Machinery
PMI Sales is a industry leader in providing top of the line opening machinery for cotton, synthetics, fiberglass, and synthetics.  See some of our options below, and you can call us for more specific questions and other information.
PMI Sales provides high quality service, as well as machines for all ranges of opening needs.  Call us at 704-860-5592
Model MFO
The PMI "Vertical fine Opener," Model MFO, is very versatile and suitable for opening and cleaning cotton,
synthetics, and blends. The opening roll is covered with metallic clothing. The fluted rolls are driven by an
AC inverter drive to achieve the required fiber feed rate.
Model MFO-L Opener
The PMI MFO-L Opener with its heavy duty construction is available in widths up 72 inches. It can be
set up to open soft roll goods, waste, cotton, man-made fibers up to 120mm staple length, and FIBERGLASS.
The MFO-L is an excellent choice for reclaiming waste in the nonwovens industry, as well as in carpet,
upholstery, and fiberglass.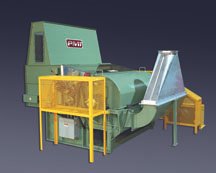 Model MMTO Opener
PMI's newly developed Model MMTO Opener is unsurpassed in processing natural and man-made fibers.
Due to its inherit design, opening of fibers is more intensive; and the expelling of trash particles is extremely
effective. In some cases, depending on the end product, additional opening equipment is unnecessary.